Attention, multi-talented multi-taskers who despair of getting your projects done!
FREE Ebook Reveals How YOU Can Finally Do "That Thing" You've Always Wanted To -- Using Time You Didn't Know You Had!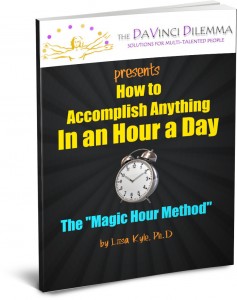 If you've got multiple talents, ideas, interests, passions…if you're a DaVinci, sometimes it seems hopeless to get ANYTHING done.
But you'll be AMAZED at what ONE hour a day can do for you with what you'll learn this ebook — and we want you to have it FREE!
You'll discover:
How to beat procrastination
How to make progress on what you'd truly, madly, deeply love to accomplish
How quickly you can jumpstart a project, even one that's been gathering dust for years
How to FIND an extra hour in your busy day
And more!
Just enter your name and email above and we'll send you your copy of this great ebook FREE! ($27.00 value!)